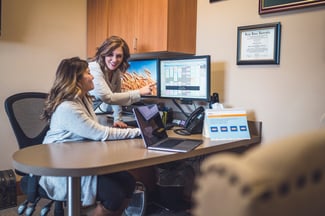 TREATMENT COORDINATORS
For a treatment coordinator, success in today's competitive market requires flawless execution when it comes to the treatment lifecycle. Your TC's ability to increase case acceptance is a direct result of your practices capacity to build relationships with patients from the span of their initial phone call to their final retainer check.
Whether you are looking to sharpen the skills of your existing treatment coordinator or train a new team member from scratch, Jill Allen & Associates is excited to share proven techniques for success in the TC role. With time management guidance, efficiency and consistency standards, sales and financial consultation coaching and case presentation scripting, your treatment coordinators will have the skill set needed to increase their case acceptance. Our goal is to empower your treatment coordinators and help them to recognize that they are an exceptionally valuable team member within your practice.
A well trained Treatment Coordinator and a beautifully choreographed new patient consultation will allow you to achieve amazing financial results, making your practice dreams one step closer to reality.